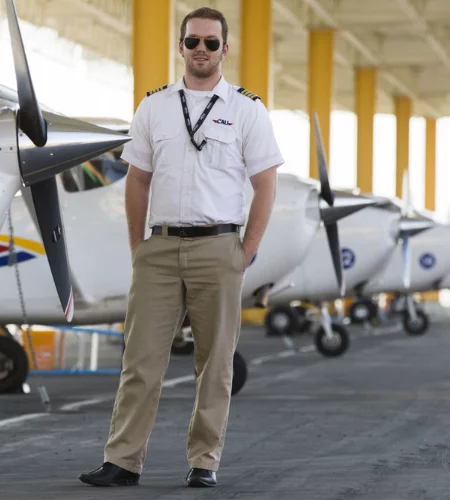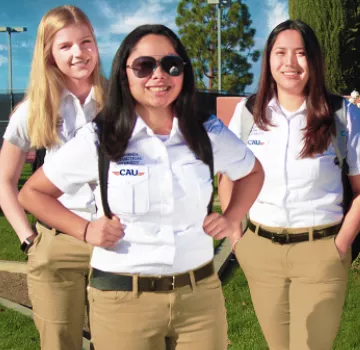 WELCOME TO CAU
Do you daydream about a future where you're the one in the cockpit, flying across the world? Maybe you have a knack for engines and love figuring out how they work. Or just maybe you get a thrill at the idea of moving planes and people through the sky from the inside of a flight tower. If any of these spark your curiosity, a career in aviation might be right for you.
Aviation schools are not all created equally. I'd like to personally invite you to learn about the programs CAU has to offer. Whether you're interested in our pilot program, aviation maintenance or aviation management, you'll figure out quickly that we're different. More than just a pilot school, CAU is an aviation community. Our students don't just pass tests and get degrees, they get the chance to go after their dream of an aviation career and actually have a lot of fun doing it! Our California and Arizona aviation school campuses and flight school training centers are designed to let students have the best of both worlds – the aviation training you need in a fun, supportive atmosphere that makes you forget this is school. The future doesn't wait for you! Schedule your tour of our campus today and see why CAU's flight school is anything but average.
-Matthew Johnston, President, California Aeronautical University
Our Flight School Campus
CAU's aviation school campus is connected to Bakersfield International Airport at Meadows Field in beautiful Southern California. With multiple airports nearby, flight school students get to experience exciting, hands-on training in a variety of flying conditions on a gorgeous, tree-lined campus. Campus features:
39,000 square foot flight center
32 shaded hangar ports
Spacious 32,000 square foot hangar
168-room on-site student housing
Recreation center with pool, gym and athletic courts
On-site dining
Tradition of Excellence
CAU was established from an institution that had been educating students for over 125 years in California. With a long history of helping students build real-world skills and life-long friendships, CAU's California based flight school is a place for students who want to turn their passion for aviation into a successful career via our aviation programs and training. This is the place where a tradition of excellence meets the next generation of aviation professionals. Find out what sets CAU's flight school apart from other aviation schools. Contact us today to learn more.
APPLY TODAY
A career as an aviation maintenance technician offers countless opportunities and is one of the most important jobs in aviation. Learn more about AMT now! There are not many careers with their own 'day.' May 24th is Aviation Maintenance Technician Day! The achievements and contributions of aviation technicians are celebrated and recognized. It is a …
Read moreBecoming an Aviation Maintenance Technician: 4 Steps to Success