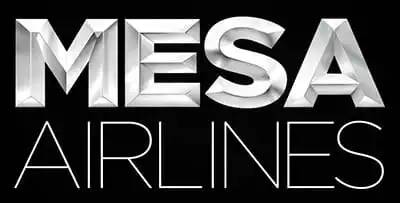 Pilot Cadet Program
The Pilot Cadet Program at Mesa Airlines is designed to help you meet your airline pilot career goals, while enjoying unique and unmatched benefits. Mesa Cadets can enjoy flight benefits and access to training materials, accrue longevity, connect with line pilot mentors, and so much more.
Participants must have their commercial certificate with instrument rating to apply to the program.
Potential Pilot Career Pathway*
Unlimited Flight Benefits
We'd Love To Show You What CAU is All About!
Cadet Program Benefits
Mentorship
Start building seniority and longevity
Unlimited flight benefits
Early preview to Mesa Airlines
Seamless transition from cadet to first officer
Access to Major Airlines*
*Denotes partnership, but eligible regional pilots may also flow to other major airlines.
About Mesa Airlines
Mesa Airlines operates a large fleet of regional jets and narrow-body aircraft on behalf of our partners, American Airlines, United Airlines, and DHL. Aircraft included in the Mesa fleet include the CRJ-900 as American Eagle, the Embraer E175 as United Express, and the Boeing 737 as DHL Express. As an airline, Mesa has a diverse group of pilots, flight attendants, mechanics, dispatchers, and corporate professionals, and can give prospective candidates the opportunity to begin their airline career and grow professionally.
Learn more at https://www.mesa-air.com/cadets.
Updated December 2022